Smokey Hummingbird ... $14
A fresh and tasty cocktail that will allow your taste buds and sense of smell to have a blast of fruit flavor and smokiness. With the base of Banhez Mezcal Joven, raspberry infusion, natural pink grapefruit and lemon juice.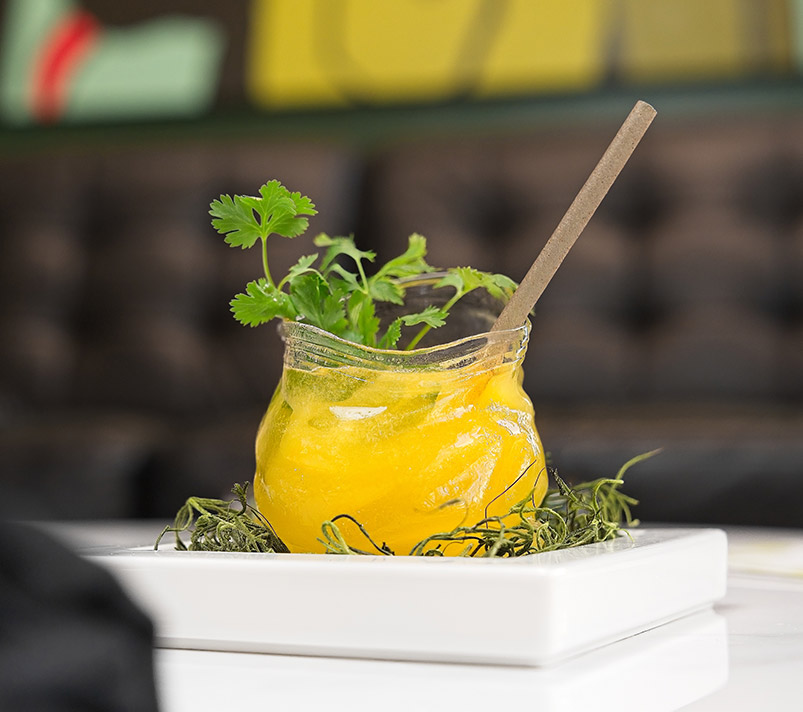 El Vasito del Almacén ... $15
With a great story behind it, this cocktail will remind you of the smell of vanilla in the morning. With the great taste of Beefeater gin, the Caribbean flavor of passionfruit infusion, fresh lime juice and the smooth taste of vanilla liqueur. This fun shaped cocktail will be the reason you will ask for another one.
Flor de Tamarindo ... $12
Tamarind is a fruit not a lot of people think of when asking for a drink. Therefore we have managed to create an exquisite mix of locally grown tamarind juice and our own cinnamon infusion. With Mutiny Island Vodka, and Elderflower liqueur you will be able to explore a whole different story.
Our Rum Fashioned ... $11
Give it a different turn to a regular old fashion and let yourself explore Puerto Rican sugar cane industry with the delicious taste of Bacardi 8 years, our infusion of Demerara sugar and a mix of bitters that will leave you wanting more.
Sweet and Tangy ... $12
The combination of Absolute mandarin, melon liqueur, fresh lime juice, pineapple juice and yuzu puree will make your mouth jump. Not to mention the great balance of simple syrup and a foamy finish with egg whites. Dare to go above and beyond with your sense of taste.
Nectar's Velvet ... $13
If you like the combination of the citrusy flavors of the orange and the bitterness of the chocolate this is the perfect one for you. With the tart notes of Cointreau, the rich bitters of cacao liquor, a base of Absolute Citron, the sweet taste of Caribbean cherry and the balance of the freshly squeezed lime juice, your taste buds will explode in a whole different experience.
Calling Ginger!!! ... $10
Nothing more refreshing than our own version of the "Tom Collins". This amazing combination of gin, ginger and lime will cure everything in you.
El Postrecito ... $12
If you're into sweet and tasty, you have found what you are looking for. For a great after dinner cocktail, you must try our graham cracker infused Don Q 7 year rum, the sweet taste of vanilla and almond liquors, chocolate and half and half. Nothing better to end with a torched marshmallow.
San Felice ... $32
Chianti
Italy
Navarro Correas ... $25
Pinot Noir
Argentina
Josh Cabernet ... $35
Sauvignon
USA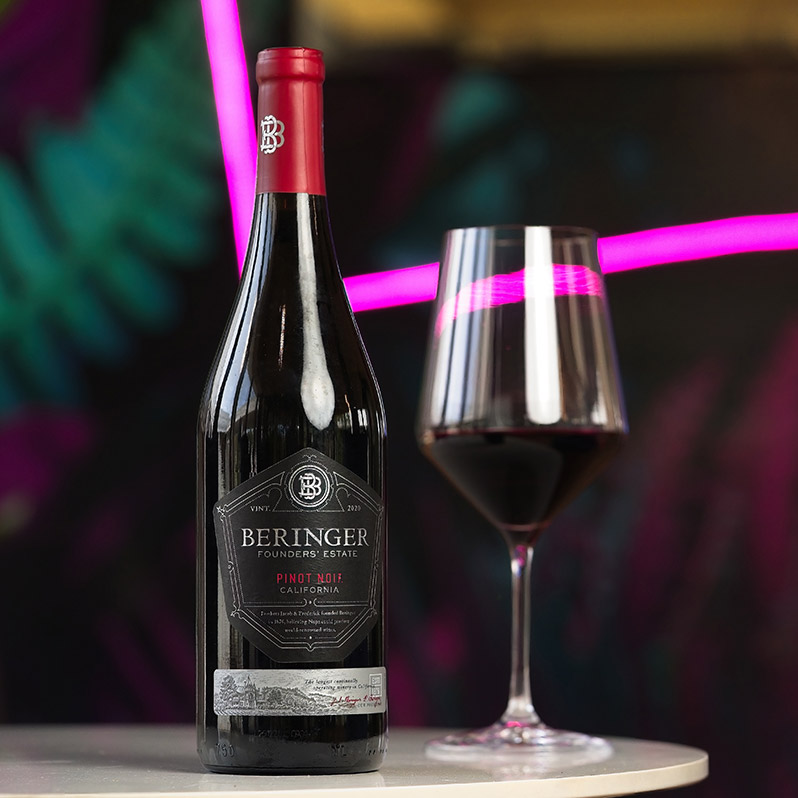 Beringer Founder's State ... $32
Pinot Noir
California
Norton ... $28
Malbec
Argentina
Norton Altura ... $38
Cabernet Franc
Argentina
Austin Hope ... $153
Cabernet Sauvignon
USA
Caymus ... $185
Cabernet Sauvignon
USA
Marquez de Riscal Reserva ... $43
Tempranillo
Spain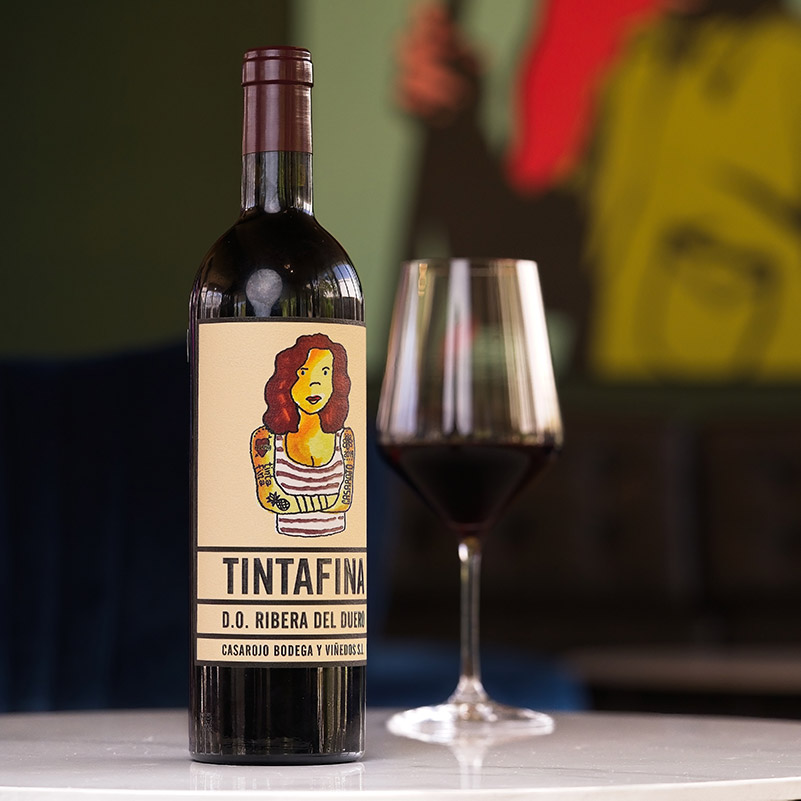 Tinta Fina ... $53
Tempranillo
Spain
BOS Tinta Toro ... $36
Tempranillo
Spain
The Stag Red Blend ... $62
USA
Chateau St. Michelle ... $59
Riesling
USA
Altanza ... $34
Sauvignon Blanc
Spain/Vegan
Martin Codax ... $45
Albariño
Spain
Kendall- Jackson ... $53
Chardonnay
USA
Lagaria ... $36
Pinot Grigio
Italy
Babich ... $50
Sauvignon Blanc
New Zealand
Navarro Correas ... $36
Chardonnay
Argentina
Mara Moura Bastardo ... $57
Spain
Sables D' Azur ... $33
France
Portium Cava Brut ... $43
Spain
Laurent- Perrier Brut ... $120
France
Sables D' Azur ... $33
France
Laurent Perrier Rosé ... $150
France
Veuve de Clicquot ... $115
France
Viña Maipo ... $9
Cabernet Sauvignon
Chile
San Felice ... $10
Chianti
Italy
Navarro Correas ... $9
Pinot Noir
Argentina
Lagaria ... $9
Pinot Grigio
Italy
Altanza ... $9
Savignon Blanc
Spain/Vegan
Navarro Correas ... $9
Chardonnay
Argentina
Sables D' Azur ... $10
France
Portium Cava Brut ... $9
Spain
Canella Prosecco ... $9
Italy
Aged Rum Flight ... $45
Artesano 3yrs
Crab Island 3yrs
Ron Barrilito 3 Estrellas
Don Q XO
Rum Ages Flight ... $35
Ron Artesano 1yr
Crab Island 3yrs
Don Q Reserva 7yrs
Ron Barrilito 3 Estrellas
P.R. IPA Flight ... $35
Yunque IPA
Ocean Lab IPA
Mal de Ojo IPA
Living the dream DDH NEIPA
Old Harbor
Coquí Helles ... $7.00
Taina Blond Ale ... $7.00
Santo Viejo Pilsner ... $7.00
Yunque IPA ... $9.00
Kofresí Stout ... $8.00
Rincon Brewing Company
Sandy Blond Ale ... $7.00
B.O.N.U.S. Guava Piña Gose ... $8.00
BoxLab
BoxLab Mal de Ojo IPA ... $7.00
Ocean Lab
San Juan Lager ... $8.00
Blond Ale ... $8.00
Ruby Grapefruit Pale Ale ... $8.00
Mambo Wheat Ale ... $8.00
Pale Ale ... $8.00
IPA ... $9.00
Johnnie Walker Black Label
Johnnie Walker Blue Label
Macallan 12yrs Sherry Oak Cask
Ron Barrilito 3 Estrellas